M95 ATV AND TRACTOR
20‒30 HP tractor
1400-1600 SERIES
70‒110 HP tractor
1150-1150M13 SERIES
30‒50 HP tractor
1800-2100 SERIES
110‒160 HP tractor
1150M14-1150M16 SERIES
50‒70 HP tractor
M95 ATV AND TRACTOR
IDEAL FOR ATV 500 CC AND +
OR FOR 20‒30 HP TRACTORS
Recommended use
For mapple bush logging
For working with pleasure in the forest
Recommended load
8'‒10' logs (occasionally 12')
---
1150-1150M13 SERIES
IDEAL FOR 30‒50 HP TRACTORS
Recommended use
Forest management on private lots
Mapple bush logging
Recommended load
8'‒12' logs (occasionally 16')
---
1150M14‒1150M16 SERIES
IDEAL FOR 50‒70 HP TRACTORS
Recommended use
Forest management on private lots
Recommended load
8'‒16' logs
---
1400-1600 SERIES
IDEAL FOR 70‒110 HP TRACTORS
Recommended use
Intensive forest management on private lots with large hardwood trees
For uses requiring a large volume of logs to be loaded or transported
Recommended load
8'‒16' logs
---
1800-2100 SERIES
IDEAL FOR 110‒160 HP TRACTORS
Recommended use
For forest management operations seeking maximum log removal performance
Ideal equipment for clearcutting and following harvester heads
CRecommended load
8'‒16' logs
---
LOADER FOR HORSES
Recommended use
Forest management on private lots
Mapple bush logging
Logging with horses
Recommended load
8' to 12' logs (occasionally 16')
---
STRENGTH, RUGGEDNESS AND PRECISION. FOR WORK LOADED WITH PLEASURE.
Made entirely in quebec, metavic log loaders are designed to simplify your work and make your days in the forest better. Constructed of top quality steel and attached directly to their logging trailer, our log loaders have equipment parts with key advantages: they are heavy-duty, powerful, precise and incredibly easy to handle. Excellence by design. Forest-tested to guarantee maximum operating pleasure.
GRAPPLE
Pick up more logs each time! With its curved design, the Metavic grapple allows the operator to easily grip logs by rolling them without crushing them. Thanks to this feature, you can increase your lifting capacity, while preserving the quality of your wood!
TRAILER WITH TRACTION CONTROL
No more getting stuck in the mud! Placed on the wheels of the trailer, our unique hydraulic system provides you with additional traction to extract your trailer, ATV or tractor from wet, muddy or slippery slopes. It will help you to climb the steepest slopes with ease. In short, you'll reach peak efficiency!
ARTICULATED AXLES
Go anywhere you want! Metavic's articulated axles (Trac system) offer a very short turning radius and therefore allow the trailer to make very tight turns. In addition, the tandem axles ensure stability for your load, even on rugged and uneven terrain. Perfect for overcoming obstacles and moving wherever you please without fear of spilling your load.
ARTICULATED
DRAWBAR
You'll be an expert in tight turns! A favourite accessory of our customers, Metavic's articulated drawbar allows for a 50-degree play on either side of the trailer. Better yet, it prevents the hitch from touching the wheels when manoeuvering in tight spaces. You can dare without fear onto heavily forested trails that have yet to be cleared!
CONTROL SYSTEM
Simplify your work! The Metavic control system was designed and tested to ensure simple, efficient and totally ergonomic control. That's why our hand levers are not installed too low or too far from your operating station, allowing you to optimize their use.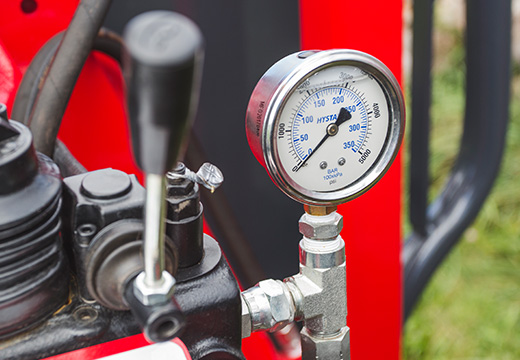 PRESSURE GAUGE
Take advantage of all the power your loader has! Our pressure gauge allows you to see with a glance that the oil pressure in the engine is optimal and that you can indeed lift the promised loads. Note that our loaders have square oil inputs that are welded with a protective guard onto the cylinder. Everything to ensure you use your loader's full potential!
STABILIZERS
Discover an advanced level of stability! With Metavic's tilting-type stabilizers, you benefit from optimum stability to prevent your cargo from spilling, even when the terrain is very steep or uneven. The standard butterfly model can be replaced at your request with telescopic legs. Whatever you choose, you'll be able to load and unload with the greatest confidence.
LONG-REACH RING
Prevent breakdowns and mechanical problems! Metavic rings are machined, inserted and welded on either side of the plate for better reach. Combined with hardened steel at the main articulation points, they provide unmatched durability.
BOOM
Maximize your loads! The unique design of our boom lets you load much closer to the guard. And with our very sturdy protective plate preventing the logs from striking the loader, you can bring cut trees towards you without any fear! So there is more room to increase your productivity!

HYDRAULIC WINCH
Work hard with complete stability! Being fixed to the trailer chassis, the Metavic winch is completely separate from the boom. It is by far the most stable winch to handle, and offers the solid, robust performance that you expect from logging equipment!
CREATE YOUR OWN CUSTOM-MADE METAVIC LOG LOADER
Metavic offers custom design of your log loaders and logging trailers (wheelers) for changing or adding elements to your machinery based on your use and the type of terrain where you work. By way of example, we can make the trailer wider or longer, make the boom longer, change the load distribution, change the spacing of the tires, or even make the tires wider. In fact, we can do anything you'd like to ensure that you can work better and keep on smiling in the forest!