WHEELER COMPACT
IDEAL FOR TRUCK MODELS 1500 TO 2500
RECOMMENDED USE
The most cost-effective for the buyer.
Specially designed for pruning companies or people wanting to transport logs themselves on the road.
RECOMMENDED LOAD
Logs from 8' to 12'‒14'
---
WHEELER JUNIOR
IDEAL FOR TRUCK MODELS 2500 TO 3500
RECOMMENDED USE
For transporting medium- and large-sized logs on a regular basis.
RECOMMENDED LOAD
Logs from 8' to 12'‒16'
---
WHEELER SENIOR
IDEAL FOR TRUCK MODELS 3500 and +
RECOMMENDED USE
For operators with several contracts requiring a large transport volume.
RECOMMENDED LOAD
Logs from 8' to 12'‒16'
---
POWER, DURABILITY AND STABILITY. EVERYTHING YOU NEED FOR LOG LOADING AND TAKING TO THE ROAD WITH A SMILE.
Registered just as regular trailers are, metavic logging trailers (wheelers) with built-in loaders are the ideal solution for people who have to prune, load and quickly transport their logs on the road. In addition to being trimmed to avoid an overweight load on your truck, they have a high quality steel chassis with beams mounted all in one block. This guarantees unparalleled ruggedness and durability.
GRAPPLE
Pick up more logs each time! With its curved design, the Metavic grapple allows the operator to easily grip logs by rolling them without crushing them. Thanks to this feature, you can increase your lifting capacity, while preserving the quality of your wood!
CONTROL SYSTEM
Simplify your work! The Metavic control system was designed and tested to ensure simple, efficient and totally ergonomic control. That's why our hand levers are not installed too low or too far from your operating station, allowing you to optimize their use.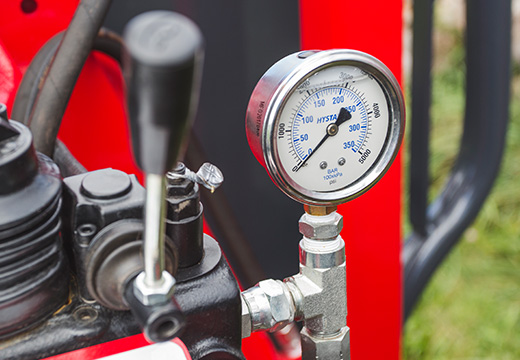 PRESSURE GAUGE
Take advantage of all the power your log loader has! Our pressure gauge allows you to see with a glance that the oil pressure in the engine is optimal and that you can indeed lift the promised loads. Note that our loaders have square oil inputs that are welded with a protective guard onto the cylinder. Everything to ensure you use your loader's full potential!
HITCHES AND DUMPING PLATFORM
Hitch up without any problem! Metavic logging trailers can be adapted to your needs by providing you with one of the three following hitch systems: fifth wheel, gooseneck and tag along.
Better yet, our trailers can be transformed into a dumping platform to allow for faster unloading.
STABILIZERS
Discover an advanced level of stability! With Metavic's tilting-type stabilizers, you benefit from optimum stability to prevent your cargo from spilling, even when the terrain is very steep or uneven. The standard butterfly model can be replaced at your request with telescopic legs. Whatever you choose, you'll be able to load and unload with the greatest confidence.
LONG-REACH RING
Prevent breakdowns and mechanical problems! Metavic rings are machined, inserted and welded on either side of the plate for better reach. Combined with hardened steel at the main articulation points, they provide unmatched durability.
BOOM
Maximize your loads! The unique design of our boom lets you load much closer to the guard. And with our very sturdy protective plate preventing the logs from striking the loader, you can bring cut trees towards you without any fear! So there is more room to increase your productivity!
WHEELER TRUCK MOUNT
Metavic's experts are able to install the loader models 1400 to 2100 on your company's trucks, whatever your business sector (forestry, agricultural, industrial, mining, etc.). We analyze your needs and your use in order to choose the right loader and make all the necessary adaptations. In the end, your vehicle will benefit directly from all the power and stability that Metavic products are known to have. Nothing less will do!
Recommended vehicles
Truck models 4500 and + with an open rear chassis
Recommended load

Logs from 8' to 12' (14' for wheelers with a platform)